Insulation Services
Coler Natural Insulation provides insulation solutions to help better homeowners with comfort levels and energy efficiency throughout the home. We aim to go above and beyond for all of our services so you get the best results, more knowledge, and satisfaction. Please see our list of services below to find out more information: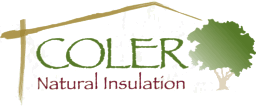 Eco-Friendly Solutions
With all of our services, we aim to be as eco-friendly as possible, which is why we use insulation made from environment-friendly materials. Our spray foam insulation is made from soybean oil, our low-e reflective insulation is made from recycled milk jugs which is great for basements/crawl spaces, and our cotton batt insulation is made from recycled blue jeans and works great for soundproofing. Contact Coler today to learn more about our services and how they can benefit your home!